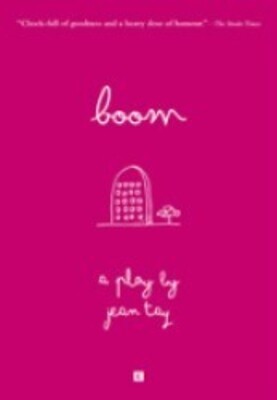 Author: Jean Tay
Product details
Format Paperback | 128 pages
Publication date September 2009
Publisher Epigram Books
| | |
| --- | --- |
| Weight | 99 g |
| Dimensions | 210 × 145 × 10 mm |
$16.90 Price Excluding Tax
Description
Welcome to the surreal world of Boom, where civil servants wake the dead, corpses are terrified of cremation, old women are besieged in their homes, and Ah Bengs still dream of being Superman. Boom tells the story of an elderly woman and her property agent son in Singapore, who are struggling over the potential en bloc sale of their home. Their destinies become interwoven with that of an idealistic civil servant, Jeremiah, who is facing the greatest challenge of his career—persuading a reluctant corpse to yield its memories. Boom is a quirky yet poignant tale about the relocation of both dead and living, and how personal stories get left behind in the inexorable march of progress.
Written by economist-turned-playwright Jean Tay, Boom was conceptualized at the Royal Court Theatre in London in 2007 and developed and staged by the Singapore Repertory Theatre in September 2008. It was nominated for Best Original Script for The Straits Times' Life! Theatre Awards in 2009 and is now an 'O'- and 'N'-Level Literature text in Singapore schools.
Praise:
"Jean Tay is one of the most gifted playwrights I have come across in years."
—Gaurav Kripalani, Artistic Director, Singapore Repertory Theatre
About the Playwright:
Jean Tay graduated in 1997 with a double degree in creative writing and economics from Brown University, USA. She was awarded the Weston Prize for Fiction at Brown, as well as the first and third prizes in the National Arts Council's Golden Point Award National Short Story and Poetry Competition in 1995 and 2001 respectively.
Tay's plays have been performed in Singapore, the US, the UK, and Italy. Plays produced include Water from the Well (1998), The Knot (1999), Hopper's Women (co-written with Cindy Koh, 2000), Plunge (2000), Everything but the Brain (2005, 2007, 2013), Boom (2008, 2009, 2012), Sisters (2013) and Senang (2014). Tay has also written the books for the musicals The Admiral's Odyssey (2005), Man of Letters (2006), and the children's musical Pinocchio (2010). Tay was attached to the Singapore Repertory Theatre as its resident playwright from 2006-2009, and currently runs its Young Company Writing Programme for young playwrights. She was also a writer-in-residence at the Nanyang Technological University in 2013.
In 2000, The Knot was awarded first prize in the Hewlett Packard/ACTION Theatre Ten-Minute Play Contest and selected as a finalist for the Actors Theatre of Louisville's Ten-Minute Play Contest. Tay has been nominated three times for Best Original Script in The Straits Times Life! Theatre Awards, and won for Everything but the Brain in 2006. In July 2007, she was selected to attend the prestigious month-long International Playwriting Residency organized by the Royal Court Theatre in London, where the concept for Boom was first developed. Boom and Everything but the Brain has both been selected by the Ministry of Education as 'O'- and 'N'-Level literature texts in Singapore.