Environmentally friendly book protection film made from the renewable, natural raw material sugar cane
Discover Neschen's new organic book protection film made of bio-based polyethylene from sugarcane, a renewable raw material. Sugarcane is a versatile and renewable crop that can be used as a clean source of energy and as a raw material for the production of multiple products. Being a renewable feedstock, sugarcane captures and fixes CO2 from the atmosphere every growth cycle, which occurs annually. Green polyethylene contributes to the reduction of greenhouse gas emissions when compared to conventional polyethylene, made from fossil materials. Additionally, it exhibits the same characteristics in application and performance as petrochemical polyethylene. Filmolux® libre organic consists of polyethylene made of more than 90 percent renewable content. Filmolux® libre organic conforms to REACH and is, therefore, APEO- and BPA-free. The adhesive and film are free of plasticizers.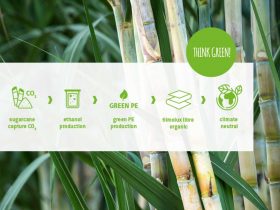 The new organic book protection film is easy to apply due to reduced initial adhesion of the adhesive. Small filming errors can be corrected well on smooth surfaces. The printed grid on the silicone liner allows for easy cutting.
Filmolux® libre organic can be used on almost all book covers.  The rolls are suitable for working with the book lamination station BLS-Classic and BLS-Professional.
Designed for
filmolux® libre organic is ideal for applications on smooth
surfaces, e.g. on paperbacks, comics, paper covers, brochures, folders etc.
protects from dirt, grime and dust as well as wear and tear
Product features
90 μm glossy, bio-based PE film with UV protection
Reduced initial adhesion
Water-based acrylic dispersion adhesive: solvent-free, resistant to ageing, permanently elastic, pH-neutral
Silicone paper liner with grid for easy cutting
APEO- and BPA-free, produced according to REACH
Small application errors can be eliminated
Simple cleaning and disinfection are possible. 
6043979
6043980
6043981
6043982
6043983
6043984
6043985
6043986
6043987
6043988
25 m x 22 cm
25 m x 24 cm
25 m x 26 cm
25 m x 28 cm
25 m x 30 cm
25 m x 32 cm
25 m x 34 cm
25 m x 36 cm
25 m x 41 cm
25 m x 50 cm
40 mm core, film inside
40 mm core, film inside
40 mm core, film inside
40 mm core, film inside
40 mm core, film inside
40 mm core, film inside
40 mm core, film inside
40 mm core, film inside
40 mm core, film inside
40 mm core, film inside